Heute geht es mit den Konzerten gleich weiter auf dem nächsten Festival. Wie denkt ihr wird die Setlist aussehen? Werden wir die selbe Setlist wie in Lissabon sehen?
Wenn wir Glück haben wird auch dieses Konzert Live übertragen. Gestern wurden bei 3voor12 bereits Konzerte übertragen und für den Zeitraum, in dem Linkin Park spielen steht noch keine Band im Zeitplan außerdem wird dort ab 13 Uhr Live übertragen. Der dort verlinkte Stream ist von Cultura24 welche das Festival ab 13 Uhr das Festival mit Pinkpop Special live, leider gibt es dort keinen Zeitplan, in dem steht, welche Bands übertragen werden. Außerdem wird das Festival im PayTV Fernsehsender "Pinkpop 2012" Live übertragen und dort sollen auch Linkin Park übertragen werden.
Linkin Park treten auf dem Pinkpop zwischen 21:15 Uhr  und 22:30 Uhr auf. Sollten sie übertragen werden, halte ich euch auf dem Laufenden.
Quelle: 3voor12, Cultura24, UPC.nl
A Place For My Head
Given Up
Faint
With You
Runaway
From The Inside
Somewhere I Belong
Numb
LIES GREED MISERY
Points Of Authority
Waiting For The End
Breaking The Habit
LOATR/SOTD/Iridescent Medley
The Catalyst
BURN IT DOWN
What I've Done
Crawling
New Divide
In The End
Bleed It Out w/ Sabotage – Beastie Boys Bridge
Papercut
One Step Closer
Da heute kein Livestream stattfand besteht aber die Möglichkeit, dass Cultura 24 (Link oben) morgen einige Ausschnitte der heutigen Show zeigen darf.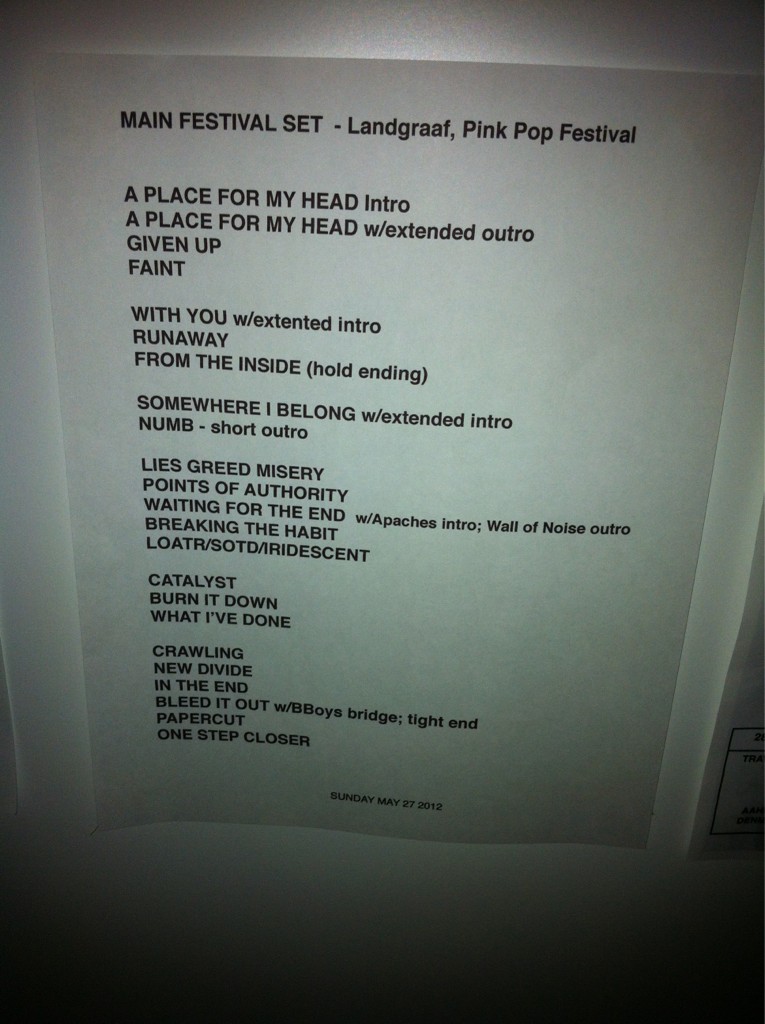 Professionelle Fotos von der Show könnt ihr HIER , HIER sowie HIER.