10. Januar 2014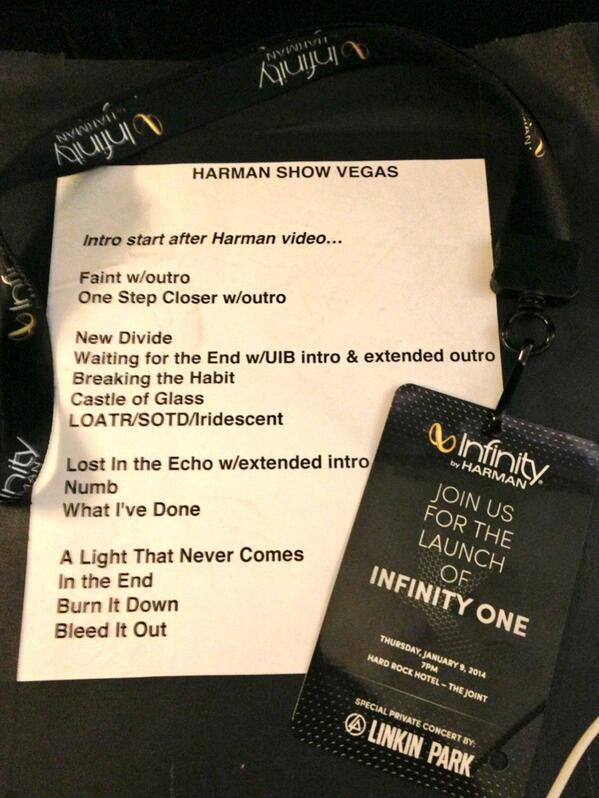 Unverhofft kommt oft. Oder so ähnlich. Gestern Nacht überraschten Linkin Park mit einer speziellen, nicht öffentlichen Show in Las Vegas. Eigentlich sollten sie erst heute ihre erste Show in diesem Jahr spielen, aber auf Grund der gerade erst angekündigten Partnerschaft mit Harman und deren Infinity Lautsprecher Serie, gaben Linkin Park bei der Vorstellung dieser Lautsprecher ein Konzert!
Hier die Setlist:
01. Faint (Ext. Outro)
02. One Step Closer (Ext. Outro)
03. New Divide
04. Waiting For The End (Apaches Intro w/ 'UNTIL IT BREAKS' v2; Wall Of Noise Outro)
05. Breaking The Habit
06. CASTLE OF GLASS
07. LOATR/SOTD/Iridescent (Ballad Medley)
08. LOST IN THE ECHO (2012 Intro)
09. Numb
10. What I've Done
11. A LIGHT THAT NEVER COMES (First time full band)
12. In The End
13. BURN IT DOWN
14. Bleed It Out (Ext. Outro)

@LPAssociation I was lucky enough to get in and get the set list! pic.twitter.com/7WtsrS7pqk

— Corey Messineo (@CoreyMessineo) January 10, 2014
Die Setlist ist leider noch nicht bekannt, so sollen sie aber A LIGHT THAT NEVER COMES ohne Steve Aoki gespielt haben. Außerdem fand gestern das LPU Meet-Up im Hard Rock Café in Las Vegas statt.
Hier noch einige Bilder und kurze Videos von der Show:
The filters on @twitter are not very good! Here's one more from tonight's performance! Good night #cutomorrow! :) pic.twitter.com/u014G74h1R

— SPPaDen (@stage_rad) January 10, 2014
via MikeShinodaClan