23. Februar 2013
Schon ist es soweit, das Soundwave Festival in Australien hat begonnen. Die Festival Tour startete heute in Brisbane und zieht nun weiter über Sydney, Melbourne, Adelaide und Perth. Die erste Setlist der Tour könnt ihr hier sehen:
TINFOIL
Faint
Papercut
Given Up – ext. outro w/extra note
With You– ext. 2012 intro
Somewhere I Belong– ext. 2012 intro
New Divide
VICTIMIZED/QWERTY
Points Of Authority
LIES GREED MISERY – touchpad fuck up half way through
Waiting For The End – Ext. Intro w/ UNTIL IT BREAKS v.2
Breaking The Habit
CASTLE OF GLASS – song abandoned due to keyboard issues. Chester says "fuck that song. Let's play APFMH." But both Brad and Mike had swapped guitars for LITE so they basically moved on with the set.Joe starts LITE.
LOST IN THE ECHO – 2012 intro
Numb
What I've Done
BURN IT DOWN
In The End
Bleed It Out
One Step Closer

Thanks to @Mikeatron85 for the Setlist info
Before and after the LP crowd arrived at #soundwave #rnashowgrounds #brisbane #australia http://t.co/XO6vYYbWqO

— erin (@mshollyweird) February 23, 2013
Mit Linkin Park teilten sich unter anderem die walisische Band The Blackout, sowie die Thrash Metal Giganten Slayer eine Bühne.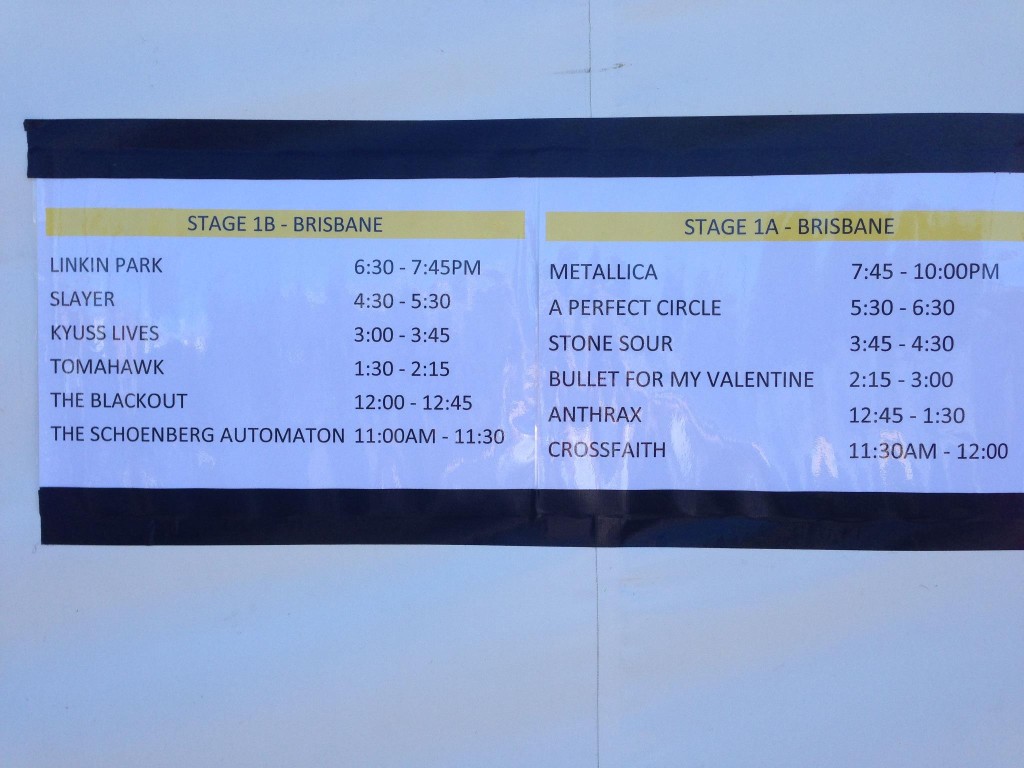 Setlist Bild verlinkt auf Instagram, Timetable from The Blackout Facebook