Nachdem Mike gestern spontan im LPU Chat auftauchte und ein neues Puzzle ankündigte, dass jedoch leichter werden sollte, als das Binär/ASCII Code Puzzle, folgte auch prompt unter LinkinPark.com/message ein neues Puzzle. Diesmal ist es jedoch tatsächlich einfacher als zuvor. Hier das neue Puzzle: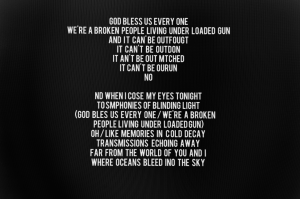 Und kaum wurde es online gestellt, wurde es wenige Minuten später schon gelöst.
Die Lösung zu diesem zweiten Puzzle ist: The Catalyst
Der Weg um auf diese Lösung zu kommen ist ganz einfach. Man muss sich nur den Text anschauen, jeder fehlende Buchstabe gehört zum Lösungswort daraus ergibt sich folgendes:
GOD BLESS US EVERY ONE
WE'RE A BROKEN PEOPLE LIVING UNDER LOADED GUN
AND IT CAN'(T) BE OUTFOUG(H)T
IT CAN'T BE OUTDON(E)
IT (C)AN'T BE OUT M(A)TCHED
IT CAN'T BE OU(T)RUN
NO

(A)ND WHEN I C(L)OSE MY EYES TONIGHT
TO S(Y)MPHONIES OF BLINDING LIGHT
(GOD BLES(S) US EVERYONE / WE'RE A BROKEN
PEOPLE LIVING UNDER LOADED GUN)
OH / LIKE MEMORIES IN COLD DECAY
TRANSMISSIONS ECHOING AWAY
FAR FROM THE WORLD OF YOU AND I
WHERE OCEANS BLEED IN(T)O THE SKY
Die Buchstaben in den Klammern wurden hinzugefügt und ergeben hintereinander gelesen das bereits genannte Lösungswort.