11. Januar 2014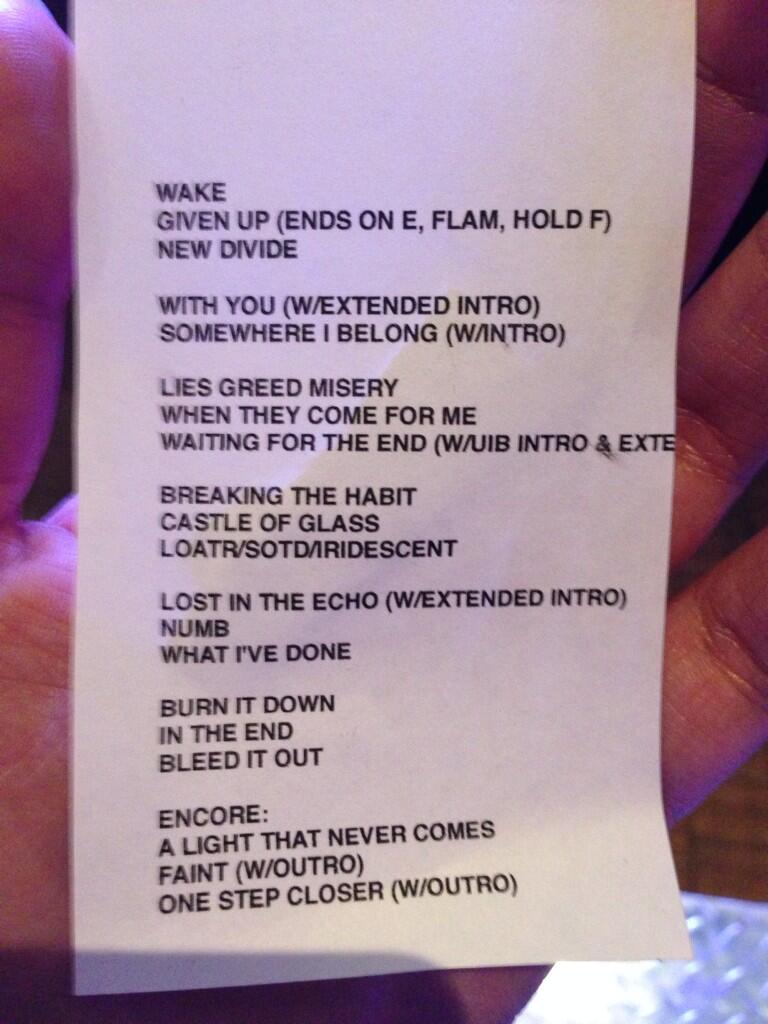 Gestern Nacht fand in Las Vegas die erste offizielle Show des Jahres statt. Es gar zwar keine wirklichen Überraschungen im Set, aber einige altbekannte Songs fanden in die Setlist zurück, während A LIGHT THAT NEVER COMES zwar auf der Setlist stand, aber nicht gespielt wurde. Hier die komplette Setlist:
01. Wake
02. Given Up (Ext. Outro w/ Extra Note)
03. New Divide
04. With You (2012 Scratch Intro; Ext. Scratch Outro)
05. Somewhere I Belong (2012 Intro)
06. LIES GREED MISERY
07. Empty Spaces
08. When They Come For Me
09. Waiting For The End (Apaches Intro w/ 'UNTIL IT BREAKS' v2; Wall of Noise Outro)
10. Breaking The Habit
11. CASTLE OF GLASS
12. LOATR/SOTD/Iridescent (Ballad Medley)
13. LOST IN THE ECHO (2012 Intro)
14. Numb (Outro 'Numb/Encore' Lyrics Tease (Mike/Chester))
15. What I've Done
16. BURN IT DOWN
17. In The End
18. Bleed It Out (Ext. Bridge w/ Chorus Sing-a-long; Ext. Outro)
—————————————————-
19. Faint (Ext. Outro)
20. One Step Closer (Ext. Outro)

Baby setlist from @joehahnLP's dj setup pic.twitter.com/QUCUpFiI85

— irene_k (@Irene0kay) January 11, 2014
Heute Nacht werden Linkin Park dann ihr Concert For The Philippines im Club Nokia in Los Angeles spielen, welches über die AXS App gestreamt wird. Vergesst also nicht morgen früh ab 5 Uhr wenn der Stream anfängt den Stream zu schauen, wenn ihr wollt. Ab etwa 7:30 Uhr morgen früh deutscher Zeit spielen Linkin Park.
Hier jetzt noch ein paar Bilder von der Show in Las Vegas:
Goodies before the show starts! pic.twitter.com/waxyntIrY2

— LPFC's Tour Ticker (@LPFC_TourTicker) January 11, 2014
https://twitter.com/Irene0kay/status/421954786351529984
Linkin Park in Las Vegas signage :) pic.twitter.com/tTSuVeFqbX

— LPFC's Tour Ticker (@LPFC_TourTicker) January 11, 2014
thank you Vegas. pic.twitter.com/sJi7gGXwhV

— LINKIN PARK (@linkinpark) January 11, 2014
My fave shot of @phoenixlp in Vegas! Thanks for the pick & an awesome show minus the crowd surfer who fell on me… pic.twitter.com/YahULfcN0k

— •irene• (@irene_artdept) January 11, 2014
https://twitter.com/Irene0kay/status/421939031295795200
https://twitter.com/Irene0kay/status/421939170487959552